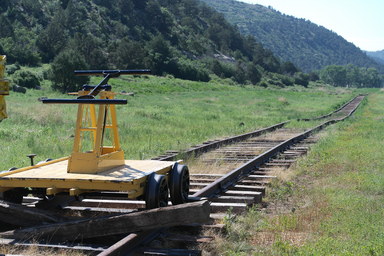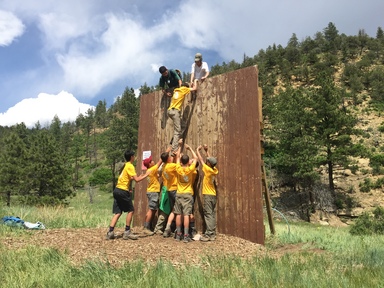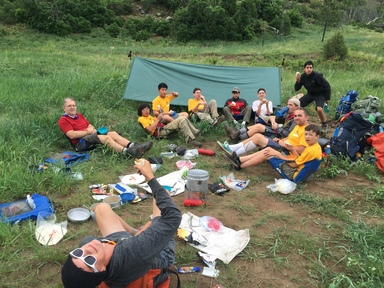 Up at 5:30 to wake Aubry, who needs to get back by 8:00 for a meeting. She leaves at 6:10. We leave at 7:55, still more than 2 hours to pack up and go. At Metcalf Station we admit to losing our Life, but the world doesn't end. We water up, look at the railroad museum, and several hundred feet of rail they laid. As we leave we hear they confirmed the Life was left at Indian Writings. They will get us a new copy at one of the staff camps. It is a long hot walk up a pretty canyon with a short ascent out, still hot. We cross the ridge and go down a very steep fire road into Dan Beard, which is a staff camp with a Challenge course.

We eat lunch, and I nervously watch the clouds build. The scouts want to do the Challenge course, and we have one more ridge to cross before we get to Rich Cabins. The Challenge course is great, of course. In Helium Hula they all put two fingers on a Hula Hoop and try to lower it to the ground, but it really wants to go up instead. Then they do a trust fall where the faller tips backward, then they shuffle them onto everyone's hands, then turn them over (face down), then shuffle them back out. Next they lead Christian blind-folded to the next event, across a little log bridge. They have to get everyone across a rope swing, but but the first challenge is to get the rope, which is hanging in the middle of the gap. The scouts invent a new method of rope capture, tying all their coats together as a kind of rope, with a water bottle at the end. They can swing it out and around and hook the rope. The Staff is impressed, although later he notes that long sticks were lying right there on the ground. Everyone swings across OK, even blindfolded Christian. Oh, three of the scouts were mute, and they went across first. In a funny moment they were asked if they were ready to help with Christian, and they responded with a smile and a thumb's up. The next challenge was the Archemedie's Log course, where you have to place logs between standing stumps, picking the right length. It turns out you have to recycle one of the spanning logs, but the scouts figure it out pretty quickly based on their experience at Oljeto's COPE course. By this time most of them are muted so it was fun to watch them communicate with hand signals and body language. Finally there is the 12-foot wall were they get everyone over.

Then it is Time to Go! We leave about 3:10 and have about 2 miles to get across the ridge to Rich Cabins. It is steady up, and goes right along a fence line so it is steep at times. The ridge was burned in the big 2002 Ponil Complex fire, so there are only dead trees sticking up like toothpicks. We spread out, and I instruct the scouts to just keep going. Mr Marshall and I won't keep up, and I want them to get over the ridge quickly. There is a ravine in the middle of our crossing, and there we catch up with the scouts taking a break and putting on rain gear. Again the intructions are "don't stop!" We have just a small rise and we've cleared the ridge. The whole crossing we've been hearing rolling Thunder but no "cracks", and no flashes we could see, so nothing was close. We hit a fire road that takes a sensible grade down to Rich Cabins, and it starts to rain harder, with a little hail mixed in. I did the whole hike in rain pants. We check in at Rich Cabins and use our photo of the "Life" to get food. The scouts got a tour of the cabin as I caught up on the journal.

Our camp is downstream a bit, including a stream crossing on a log. We are in a field near the river, and the bear line is across the river and another (second) high log crossing, nearby to our sister crew. After a dinner of Mexican Rice stuffed into Tortilla's, we head back to the cabin for a music program. It was a special Saturday night with all 10 staff members there. Great musicians: banjo, guitar, bass, accordian, wash board, fiddle, voice. They did the original words to Home on the Range, and a bunch of great songs. They also did a skit about a bear where they used Evan as a tree, and Michael J as a very convincing Bear. The staff member playing the lead role was visibly worried about the bear! It was great. We headed back late under a starry sky.

11.0 miles. 7350 ft to 7700 at Rich Cabins. Min 7075. Max 8287.